Board of Directors
About Us
Julia Ann Forte Frudden
Chair
Julia Frudden is an Associate in the Equity, Education, and Community Division at Social Policy Research Associates. Previously, she was a research consultant for Oakland Starting Smart and Strong, as well as a long-time education and social justice advocate. For five years, she worked at the Child Care Law Center where she directed advocacy and engagement efforts for the organization's community development initiatives. She successfully led a community-focused legislative campaign resulting in the passing of California Senate Bill 234 (Skinner), which increased protections for and removed barriers to family child care businesses. Prior to the Law Center, Julia taught first grade in East Palo Alto, CA and in Five Points, Denver, CO. Julia received her Master of Public Affairs from UC Berkeley's Goldman School of Public Policy and her B.A. in political science from Pepperdine University.
Nathan Kleiner
Vice Chair
Nathan is an attorney and the founder and CEO of Critical Pass, a leading educational company focused on helping law school students excel and pass the bar exam. He was born and raised in Oakland, CA, where he currently lives with his wife. Before Critical Pass, Nathan worked at Cooley LLP in San Francisco, where he focused on internet privacy litigation. During his legal career, he has also worked for the Hawai'i State Judiciary. Prior to law school, Nathan worked as an advocate for medical and mental health care for incarcerated inmates in California. He is passionate about providing equal opportunities and resources for families. Nathan holds a JD from the University of California, Davis and a BA in Political Science and American Culture Studies from Washington University in St. Louis. He really likes dogs.
Todd Brantley
Treasurer
Working primarily from First Republic Bank's Oakland office, Todd has 20 years of banking experience advising and lending to business clientele of various types: private equity/VC firms, technology firms, nonprofits, law firms, medical practices, and real estate investors, as well as other professional services providers. In addition, he provides financing for clients with commercial real estate needs for both owner-occupied and investment purposes. Todd received his Bachelor of Science in Commerce at the McIntire School of Commerce in Charlottesville, Virginia, with a concentration in Finance and Marketing. He also completed his MBA at the University of California, Berkeley's Haas School of Business.
Lindsay Kemp Bruckstein
Secretary
Lindsay juggles staying at home with her toddler while also working in digital marketing. Prior to that, she spent 10+ years in the wine and spirits industry in market research. As a new parent, she quickly discovered how challenging it is for families to find quality, affordable childcare. After campaigning for Alameda County's Measure A (Childcare and Early Education sales tax), she decided to continue her advocacy for childcare and is excited to be a part of BANANAS. Lindsay also serves on the board of Alameda Family Collective, a nonprofit organization that provides resources and activities for families of young children in Alameda. In her free time, she enjoys hiking and entertaining.
Anthony Barr
Member
Anthony brings wide-ranging consulting, tax, and accounting experience as a partner at the Henry Levy Group, an Oakland based CPA Firm. His clients are small businesses, real estate investors, and individuals with international tax exposure.
He is a co-editor of a respected reference book on international accounting standards and a regular speaker for international tax and accounting professional audiences. Anthony and his wife, another East Bay native, are Oakland residents and the parents of two young children.
Anthony serves on the board of Oakland Field of Dreams, the Rockridge District Association, and Bananas, Inc.
Brandy Beazley
Member
Brandy is a registered nurse whose focus and dedication is geared towards community health and social justice. She became aware of the struggles facing children and families after becoming a mother and working with children and families at Head Start. She has lived in Oakland for 9 years, and the Bay Area for 22 years. She feels a special calling to advocate for families.
Noni Galloway
Member
Noni is an Oakland native, currently living in Alameda. She has lived in Alameda County her entire life and is the parent of a 4 year old son. Noni has a BA in Forensic Psychology and an MBA in HR Management, both from Southern New Hampshire University. She is currently working at Kaiser as an HR specialist, and working towards her Paralegal Certification at Cal State East Bay. She will graduate in August 2021. In her spare time over the past year, Noni worked at Parent Voices of Oakland as a Parent Intern/Organizer. In January, she started working at Greenleaf School (OUSD) as the Parent Engagement Coordinator for African American families. She also serves on the Alameda County Early Care and Education Planning Council which advises and makes recommendations to policy makers to ensure families have quality child care.
Nancy Harvey
Member
Nancy is a child care provider, child care advocate, and a proud member of SEIU Local 521. Nurture, care, and educate is the philosophy behind Nancy's mission whether she is serving children in her family day care, Lil Nancy's Primary Schoolhouse in West Oakland, supporting parents in raising their children, or advocating for other child care providers. Her passion is to advocate for child care providers, fight for better wages and overall respect for the profession, and push policymakers to fix California's inequitable child care system. Harvey feels that by being on the Board for BANANAS, she can better represent child care providers and make their voices heard. She loves BANANAS wide array of programs and is extremely fond of parent and provider workshops. In her free time, Harvey goes out for nature walks, indulges in interior design showcases, and spends time with her three children.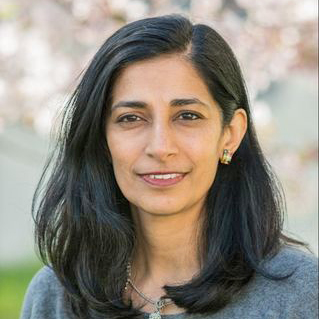 Priya Jagannathan
Member
Priya Jagannathan is the Director of Oakland Starting Smart and Strong (OSSS), an early childhood collaborative that aims to ensure every child has access to high quality early learning experiences that support healthy development. She currently serves on the City of Oakland Head Start Advisory Board and recently joined the City of Alameda's Social Services and Human Relations Board.
Before joining Oakland Starting Smart and Strong 4 years ago, Priya held a variety of roles at the City of Oakland's Human Services Department, including managing the City's violence prevention investments and planning Head Start child development and family services.
Prior to her work with the City, Priya held leadership roles in nonprofit and public agencies in Oakland and San Francisco, including Alameda Alliance for Health, Planned Parenthood Golden Gate, and Glide Foundation. She has a strong commitment to the equitable distribution of resources throughout the community, and supporting high quality programs and strategies serving children and families.
Priya has a master's degree in Public Health from UC Berkeley and a bachelor's degree from UCLA. She was born in India, raised in New Jersey and California, and has lived in the Bay Area the last 25 years.
PAULA MATHIS
Member
Paula has worked as a community volunteer and advocate for young children and their families for more than 25 years. She and her husband recently moved to Alameda from Southern California and she has been searching for the perfect organization to continue her work in helping very young children get a great start in life. She is thrilled she and BANANAS found each other. Ensuring that BANANAS programs to help families and caregivers provide the highest quality care to all children is one of her top priorities. Paula enjoys live theatre, art museums, reading, walking, and being with her family.
JOLANKA NICKERMAN
Member
Jolanka is a global lead for energy and data center site selection at Google. Prior to Google, she worked in the energy field at First Solar, the International Energy Agency, the Federal Energy Regulatory Commission, and the California Public Utilities Commission. Jolanka cares deeply about giving all kids the best possible start at life through access to affordable, quality early childhood care and education. Jolanka was born and raised in Berkeley and now lives in Albany with her husband and three crazy kids.
Makinya Ward
Member
Makinya Ward, Founder & CEO of Kids Konnect Preschool, is a talented and seasoned business leader with more than 20 years of childcare industry experience. In the midst of her corporate marketing career, Makinya founded and grew Kids Konnect, which was voted Best Preschool in the Bay Area by the readers of Bay Area Parents magazine in 2010, 2018 and 2020. In addition to her business acumen, Ms. Ward has a BA in Business Administration from California State University, Hayward, has received her Child Development Permit credential from the California Department of Education and is a board member of Californians for Quality Early Learning (CQEL) and to Alameda County ECE Planning Council. Ms. Ward currently resides in the East Bay, is married to her loving husband Gene and is the proud mother of two teenagers (Geniya & Gene), a dog (Zelda), bearded dragon (Lizzy) and a snake (Rex). She enjoys being outdoors, frequently hiking in and around the hills and flats of the Bay Area.