We're highlighting just a few of the thousands of families whose lives have been impacted by BANANAS. This year, we put Our Words in Action to support the most vulnerable families and young children.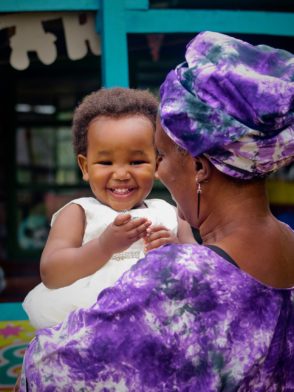 Meet our client Sharon:
Sharon, a single mother, recently transitioned to traditional housing in Oakland. She came to BANANAS because she needed to go to school and find work to support her two children, Ziya and Ken, who are two and five years old.
"I didn't even realize we qualified for subsidized child care. BANANAS has made a monumental difference in our lives. Having my children in a trusted environment, I know they are happy and their needs are being met. This has really allowed me to focus on my school."
Sharon found a job at a retail store in Oakland. "Here I am loving myself again, and I've got a new life to care for. I feel like I've got a second chance."
Meet our client Kiera:
Before coming to BANANAS in August 2017, Kiera was taking care of her 3-year-old granddaughter Denae on her own. Born from a mother who has an addiction, Denae went through many health problems at birth. It was then when Kiera stepped in and started taking care of her granddaughter.
Soon after Kiera received the guardianship custody of her granddaughter, she decided to get back into the workforce. When she didn't think she could afford the care that would prepare Denae for kindergarten, she turned to BANANAS for help.
With the help of BANANAS, her granddaughter began to receive full-time child care services in a family child care while Kiera could focus on her new job. "My life changed for good because of BANANAS." Kiera feels optimistic about her granddaughter's future.
Meet our client Inti:
Inti Fernandez aspires to be a good father, a superhero to his two children. In addition to raising his kids alone, Inti is pursuing his dream job of becoming a visual designer. For a long time he struggled to find an affordable child care program for his children. He needed child care in order to go to work, support his family, and attend court hearings to secure custody of his kids. Being a single father was tough and he had to take more than one job to make ends meet. "I made some money, but not enough to pay for my family's basic needs. I worked very hard to keep a smile on my children's faces," says Inti.
Thankfully, Inti's friend introduced him to BANANAS services. Michelle, our counselor, helped Inti by enrolling his children in one of our Alternative Payment Programs through which they received full-time child care services. While his kids continue to thrive in a safe and loving environment, Inti now focuses on growing professionally at his job.
Meet our client Eva:
Eva, a single mother who has an addiction to drugs came to BANANAS in 2016 looking for child care for her two kids, ages two and three years old. Eva desperately needed care for her two children so she could focus on her recovery at a drug rehab program in Oakland.
She enrolled in a subsidy program here at BANANAS, and both of her children received full-time child care services. She took parenting classes at BANANAS and visited the Boutique for her immediate needs, such as diapers, formula, and clothing. "I am fortunate that despite my background, my children can grow in a warm and loving environment in a family child care center in Oakland."
We need your help!
Each year at BANANAS, we help thousands of families like these by connecting them to quality, affordable child care. Through the Our Words in Action campaign, we are combatting the effects of poverty for young children where they live, learn, and play.
During this season of generosity, your gift to BANANAS is extremely important because it will offer immediate services to children and their caregivers. Invest in us and we will continue to put Our Words in Action.